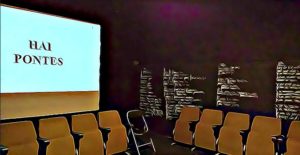 Yesterday, we finished the workshop "There are Brigdes. Four days to draw the X-ray of a gap". As a culmination of these four days of analysis, action and debate, we decided to end the radiography that we have been doing during this time to bring together strategies and alliances with which to build bridges between the performing arts and social activism. For this we met once again at Teatro Ensalle, where we talked, in a debate that went longer than expected, about the general guidelines that could be followed for the creation of a new society and a new culture.
These days are closed, allowing people and groups from different walks and latitudes to build a meeting point and a space for debate for the worlds of culture and social activism. Two sides of the same coin that have the duty to conceive themselves symbiotically if it is intended to advance towards a fairer society and cultures.

We are now starting a new path!! The next goal is Hamburg!! In July we will be showing our frontal rejection towards the neoliberal policies of the G20 that seek to benefit transnational companies above the people and the planet!! We are many!! We are loud!! The world will hear us!!