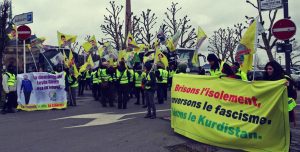 On February 11, the Long March began under the slogan "for peace and democracy – freedom for Abdullah Öcalan" which, together with over 50 activists, will take us across several territories throughout Europe, taking the city of Luxembourg as a starting point.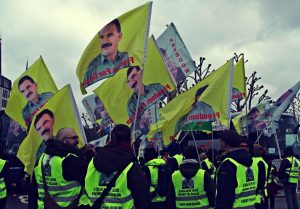 The march, which brings together activists from the Kurdish liberation movement as well as various activists of internationalist organizations, aims to point out the current situation of the Kurdish people and demand the release of the leader of the Kurdish Liberation Movement Abdullah Öcallan who celebrates this year 20 years of imprisonment in total isolation in a Turkish prison.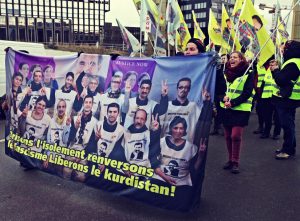 At 10 a.m. we gathered in front of the building of the European Court of Justice in Luxembourg. After a small press conference in which, together with activists of different origins (Sardinia, France, Portugal, Aragon, Catalonia…), we talked about our participation, we started the march and after a stop in a square in front of the Ministry of Interior where we read the manifesto, we ended up touring the city shouting slogans such as: "Jîn, jiyan, azadî!" (Woman, life, freedom), "Political solution for Kurdistan!" or "Freedom for Öcalan!". After taking a lunch break we got on the bus that will take us to France where we will rest and recharge our batteries.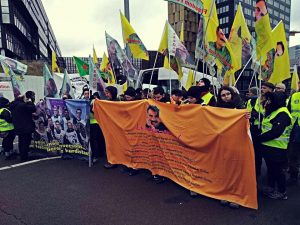 From France we will continue marching with the aim of making the struggle of the Kurdish people and the liberation of Öcalan visible. Along the way, other companions will join, and lectures as well as seminars will take place, such as the one given by the people of the Jineolojî Committee. The march will end in the city of Strasbourg where we will demand the different European institutions to fulfill their responsibilities. There is a long journey ahead, stay with us!
More Information: