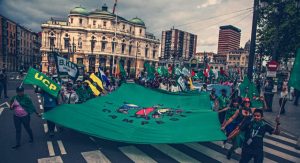 All over the planet, but especially in impoverished countries, the quality of life of rural people is getting worse every day. The neoliberal model prevents farmers from developing a basic economy since it destroys the countryside and makes the subsistence of smallholdings, cultivated in a traditional and artisanal way, unfeasible. This model, which only understands the countryside as a resource to exploit, is one of the main causes of climate change, hindering sustainable agriculture, causing the depopulation and abandonment of the rural environment, or depriving those indigenous or peasant communities that want to live in the lands they inhabited for many years1.

At the beginning of the 20th century only 2% of the world population lived in cities. In the year 2000, this percentage amounted to 50%. And by 2050 it is estimated that the percentage will reach 75%2. It should also be noted that by the year 2100, according to UN estimates, the total population of the planet could reach 12,000 million people3. The cities barely produce any food, they centralize the spending of the States and of the private initiative in infrastructures of all kinds, they desolate the soils, and are big consumers of energy and producers of CO24.

As a paradigmatic representation of the current disproportionate energy expenditure, lettuce from the Salinas Valley (California) travels 5,000 km by road to reach Washington, before its final destination, London. To get to the American city, 36 times more calories were consumed in the form of oil than the plant contains; When it arrives in London, this consumption was 127 times higher than the calories of the plant5.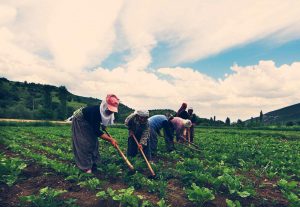 Thus, cities centralize and represent global power and are at the same time responsible for climate change and the inequalities we are suffering. The rural environment, on the other hand, is abandoned. It lacks the infrastructures, services or care of the metropolises, with an unequal geo-economic status despite being interdependent with each other.

In this context, the International Movement La Vía Campesina (The Peasants' Way) will celebrate on April 17 the International Day of Peasant Struggle, denouncing that the countryside represents a solution in the form of food sovereignty, in the reduction of social inequalities, in the fair distribution and work of natural resources or in the struggle against climate change. Thus, this movement, made up of millions of peasants, small and medium-sized farmers, rural and indigenous women, among others, organizes a global day of action to demand the implementation of the Peasant Rights through a global Agrarian Reform and Social Justice. The social struggle will always be the only way to guarantee quality of life for all.
1 https://undocs.org/es/A/RES/73/165
2 Sing C. Chew, Ecological Futures: What History Can Teach Us
3 https://www.un.org/es/sections/issues-depth/population/index.html
4 Thierry Paquot, Désastres Urbains: Les Villes Meurent Aussi
5 Serge Latouche, Vers une société d'abondance frugale. Contresens et controverses sur la décroissance
More information:
Become Interest: