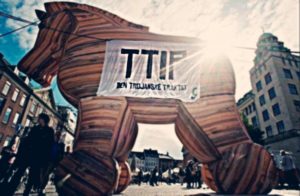 On March 14, the European Parliament ruled out —with little margin— to restart the free trade negotiations between the EU and the US, which could lead to a new Transatlantic Trade and Investment Partnership. As a result of the adoption of the 27th amendment, which called for "not supporting the guidelines for negotiation in its current form," the majority of the Parliament finally refused to approve a resolution authorizing the start of talks with the US government1.
However, the resolution was not binding. Thus, on March 22, the European Council (made up of the twenty-eighth heads of the State or Government of the Member States, the President of the European Commission and the President of the European Council), announced that it had given its approval to the European Commission to start negotiations with the US2.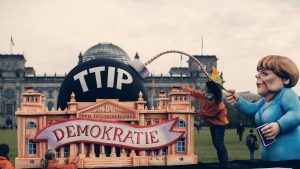 These new negotiations may end, in this way, in a new trade agreement similar to the TTIP, which seeks to lower tariffs, liberalize new markets and harmonize European and US legislation, among other measures. Among the main negative consequences of the TTIP, they highlight the probable loss of labor rights (in the US labor and union rights practically do not exist), the decrease of sustainable agriculture in favor of the large agricultural corporations, the reduction of public services, or the non-application of fundamental environmental laws3.

In fact, the US has already announced its withdrawal from the Paris agreement against climate change4 and a trade deal with this country would mean, on the part of the EU, the breach of its own resolutions5.

Until now, free trade agreements —and especially with the US— presented disastrous results for the environment and for the peoples of those countries that sign them6. NAFTA could be an example, which pushed extreme poverty in Mexico from 16% to 28% only in the first 5 years after its implementation. Although, the increasing environmental awareness of people in Europe and the United States, shapes a more active society day by day that has the strength to put pressure on European power structures to work for the interests of the majority and not from the economic elites7.
1  https://www.eldiario.es/economia/Parlamento-Europeo-UE-negociaciones-Trump_0_877713001.html
2  https://es.scribd.com/document/402769683/22-Euco-Final-Conclusions-En#from_embed
3  https://www.noalttip.org/que-es-el-ttip/
4  https://www.bbc.com/mundo/noticias-internacional-40124921
5  https://www.consilium.europa.eu/es/policies/climate-change/timeline/#
6  https://www.telesurtv.net/bloggers/El-grave-problema-de-los-tratados-de-libre-comercio-20161120-0001.html
7  https://blogs.publico.es/vicenc-navarro/2015/06/15/las-consecuencias-negativas-de-los-anteriores-tratados-de-libre-comercio
More information:
Become Interest: