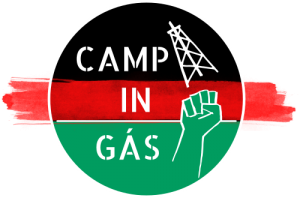 Camp in Gas is a camground that will take place in Bajouca (Leiria, Portugal), from July 17 to 21, 2019, in which ECOAR))) will participate. The goal is to do a massive action in the land where the beginning of future prospections in the search for gas is foreseen. With this action, we will say NO to gas prospection and exploration and we will shout out with a single voice for a planet free of fossil fuel extraction.

Science tells us that the climate can not hold more fossil fuel infrastructures, because those that already exist are enough to exceed the point of no return of the climate crisis. In order to maintain the increase in the temperature of the planet below 1.5ºC, we must reduce greenhouse gas emissions by more than 40% by 2030. So investing in fossil gas is investing in the continuity of the planet towards a chaotic climate.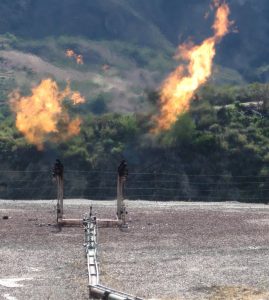 Thus, this public action that will take place on July 20, and that will have a nonviolent direct action training on the 19th, will be developed in a peaceful manner, without compromising the safety of activists, workers and police. Those wishing to participate must present themselves at the camp on the 18th, when the plan of action and the general guidelines for the action will be presented.

The origin of the Camp in Gas dates back to 2015 after the signing of 15 concessions to extract fossil fuels in Portugal, which led to the birth of opposing groups and movements throughout the country. Since then, 13 of the 15 concessions have been canceled. Now there are only 2 concessions to be knocked down. Together we must paralyze the new fossil fuel extraction projects and fight for a rapid transition towards renewable energies. Actions and movements of this type arise all over the world, because only massive social pressure can force the powerful to do what they shoud for the common good.
More information:
Become interested:
ENDE GELÄNDE: THE URGENCY FOR THE END OF FOSSIL ENERGIES
2000 ACTIVISTS TO BLOCK GARZWEILER MINE