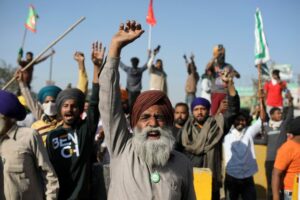 For three weeks tens of thousands of farmers have been blocking the entrances to the city of New Delhi in protest at the new reform of the agricultural markets promoted by Prime Minister Narendra Modi1. At the same time the mobilizations spread throughout the country. While the prime minister reasoned that the reform will make the agrarian sector richer, the labor unions argue that the reforms will make them vulnerable to exploitation by large corporations and erode their negotiation power.
Approved on September 27th in the Indian Parliament, the three sections of the new reform are including changes such as the possibility of negotiating directly with companies instead of in wholesale markets regulated by the Government, allowing electronic commerce of agricultural production and thederegulation of foods such as cereals, legumes, potatoes, onions, edible oilseeds and oils, allowing the government to regulate their supply and prices only in cases of war, famine, extraordinary price increases or natural disasters2.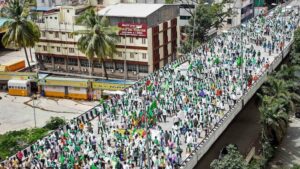 In India almost 70% of the population is peasant3. Depending on seeds, phytosanitary products and fertilizers from large multinationals, so they need to incur significant debts with banks and lenders to continue with their activity. According to statistics from the National Crime Records Bureau, 318,528 peasants committed suicide between 1995 and 2015 because of this type of debt4. In this context, a reform such as the current one further deepens the liberalization of the agricultural market and will aggravate this situation. For all these reasons, the peasant organizations seek – among other request – to repeal the new reform completely and guarantee the minimum support price (MPS), a rate established by the Government of India to guarantee the farmer a minimum price of the harvest5. For this reason, apart from the blockade of New Delhi, they have organized mass demonstrations in Punjab, Haryana and West Uttar Pradesh6 and started a general strike on November 267, with solidarity protests around the world8.
It seems clear that the image of Narendra Modi as "leader of the poor" has been damaged, with a large part of the farmers considering him close to business and industrial interests. The peasant population has risen and is not going to stop, and now the government faces its most important test; how to reverse a reform that its population does not want, while saving relationships with those who are behind this reform.
1 https://www.nytimes.com/2020/11/30/world/asia/india-farmers-protest.html
2 https://www.prsindia.org/billtrack/essential-commodities-amendment-bill-2020
3 http://www.fao.org/india/fao-in-india/india-at-a-glance/en/
4 http://www.cadtm.org/La-insoportable-carga-de-ser
5 https://www.freepressjournal.in/india/bharat-bandh-what-are-the-demands-of-farmers-heres-all-you-need-to-know
6 https://www.ndtv.com/india-news/massive-farmers-protest-in-punjab-haryana-parts-of-uttar-pradesh-roads-rail-tracks-blocked-2300821
7 http://www.industriall-union.org/over-250-million-workers-join-national-strike-in-india
8 https://www.lbc.co.uk/news/sikh-protest-against-farmer-exploitation-india-ends-13-arrests/
More Informartion:
Become Interest:
GLOBAL WATER SPECULATION BEGINS
CONGO: "GREEN" HYDROGEN, NEOCOLONIAL PLUNDER