From 25 to 29 August we will be in Rhineland to develop different actions against fossil fuels that will take place in the mining area of the Rhine, where we will meet different groups and people from different parts of Europe.
In 2016, fossil fuels accounted for 70% of the total energy consumption in the world. Coal is still the biggest responsible for CO2 emissions in the world (44% of total emissions continue to come from this fuel). And Germany, although internationally presented as a country that is committed to a change in the energy model, ranks 7th in world production of coal and 4th in its consumption.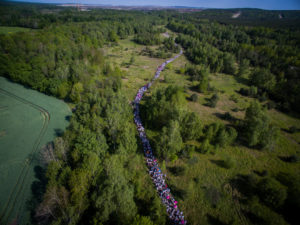 In addition, Germany will host the United Nations Conference on Climate Change (COP 23) in the fall of 2017. The German city of Bonn, under the chairmanship of Fidji, will be the setting for international negotiations that will seek to make the commitments made in the Treaty of Paris a reality. One of these agreements is to limit CO2 emissions by governments in order to prevent temperatures from reaching an increase of 2 degrees Celsius, since the scenario presented here would be irreversible and would have unpredictable consequences of extreme virulence. This is in direct conflict with the current model in which governments continue to finance polluting energy sources such as nuclear energy (which, for example, accounts for 75% of the energy produced by France) or financed mining practices, harmful to people and the environment, such as Fracking (which, in the case of the United Kingdom, involves the granting of licenses to more than 20 companies).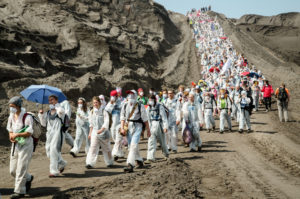 In order to limit the rise in global temperature and avoid catastrophes such as the disappearance of territories like Fiji, it is necessary to change the current energy model. Green energy or the dynamics of sustainable consumption, some of the lines that must be made clear through respect for the environment and fundamental human rights.
For these reasons, this August 2017 thousands of activists from more than 80 organizations from all over Europe will meet in the open-cast mines in Rhineland, who, through different actions, will speak against the production of fossil fuels, focusing on a collective action of civil disobedience that will block the second most polluting mine in Europe from where we will loundly say: Stop Coal! Protect the Climate!