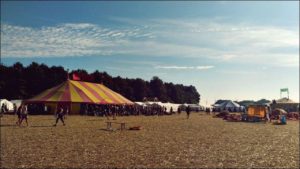 Yesterday we took the first steps through Rhineland to prepare ourselves well to face the action that will take place in the next few days in the mining region of the Rhine. First thing in the morning we inspected the camp; In the Klimacamp, activists and organizations of diverse nature and origin are present, with whom we exchanged impressions and contact throughout the morning. This year 2000 activists will participate in the actions in Ende Gelände, and more are still expected to arrive in the following days.
After gathering strength at lunch, we decided to go to one of the talks that take place in the grounds of the Klimacamp, in this case the talk was entitled "Rojava and ecology" in which several kurdish activists explained how the climatic situation is in Kurdistan, starting from the drought they suffer until the control of water resources by the Turkish State, as well as the search for alternative routes such as self-management. The talk had a participative character, which allowed to exchange diverse visions of the problem and its possible solutions.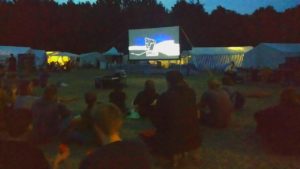 In the afternoon we went on to inspect the area in which the actions will take place in the following days. This is the mine of Garzweiler with about 48 km2 which meant the disappearance of the population of the same name. In the surroundings we find one of the last 6 inhabitants of the nearby town of Immerath, who told us, from her experience, how little by little the town was disappearing due to the mining activity in the surroundings. The prospects of being able to continue to live there according to her do not exceed the beginning of 2018. For that reason she appreciated the action that makes visible the direct consequences of mining in Rhineland.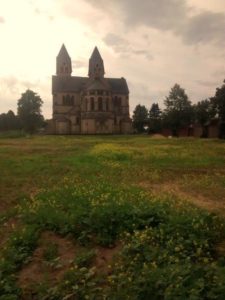 To end the day we met in the camp to see the short "Wake Up, Freak Out – then Get a Grip" and the documentary "Beyond The Red Lines" from the hand of the collective Rebel Cinema. In it we could review different actions in which we participated, such as the COP21, the Climate Games in Amsterdam or even Ende Gelände in 2015. The documentary serves to approximate both the climate movement and the search for new ways of struggle in the present moment. Without any further ado, we'll prepare for much more activity throughout the day, in which we will warm up for the action. Let's stop the coal and resist!
More information:
https://www.ende-gelaende.org/en/
http://www.klimacamp-im-rheinland.de/en/
Become interested:
ENDE GELÄNDE: LANDING IN RHINELAND
ENDE GELÄNDE 2017: ENDING THE COAL ON THE RHINE