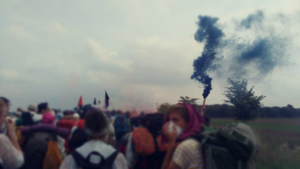 Yesterday morning, we set out to prepare all the necessary materials (masks, suits…), and after having the meetings of the fingers, and several hours of waiting to ensure that everything was ready we went out with a lot of energy on the way to block the Garzweiler mine and to avoid the normal operation of the adjacent power plants like Neurath. For this, as happened in the previous days, we divided into different thematic fingers. We were in the blue finger, which is the international. More than 600 activists from different places and  groups took part with the same objective: Stopping Climate Change.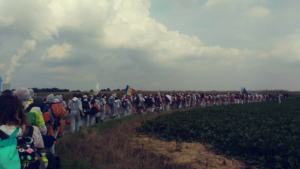 While other fingers such as the pink-black went to cut the coal supply routes to the plants, which they got for several hours until they were dislodged, we left with the firm objective of blocking the Garzweiler mine from the eastern side, advancing while shouting slogans like: "We are unstoppable, another world is possible!" Or the already famous "We are nature defending itself!" And with many forces we overcome several police lines. Even after dividing us into two groups, around 60 activists managed to arrive at a track of the train and cut it. Most of us in the blue finger remained together until the riot police managed to surround us when we were near the mine, which frustrated the possibility of blocking it. This did not succeed in discouraging us, as we continued chanting slogans and singing songs such as "Bella Ciao". In addition, the police focused many forces on us, since we were a large group, and that made it possible for other fingers to cut off the coal supply routes.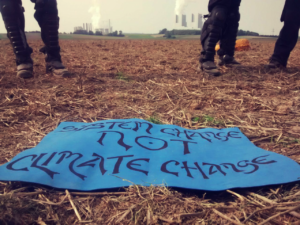 After failing negotiations with the police to find a way out that would allow us to continue with the protest, finally in the evening police began to take us to the buses to proceed to our transfer to the police station in Mönchengladbach. This transfer did not lack violent episodes by the police, who even prevented some activists to take their backpacks. Already in the late evening we were released without serious damage, along with up to 500 activists who were transferred to the police station, and we were able to return to the camps thanks to volunteers from the locality and the organization of the Ende Gelände group, who took us in cars and buses. The remaining 100 activists who were in the camp where they had been held at first, finally managed to get back on their own foot to the camp after negotiating with the police.
With much encouragement, despite all the setbacks suffered yesterday, we retired to rest and sleep with the firm idea of ​​being prepared, and shouting loudly "System change not climate change! Ende Gelände!"
More information:
https://www.ende-gelaende.org/en/
http://www.klimacamp-im-rheinland.de/en/
http://www.disobedience.live/en
https://www.climateactionmap.com/
Become interested:
ENDE GELÄNDE: LANDING IN RHINELAND
ENDE GELÄNDE 2017: ENDING THE COAL ON THE RHINE
KLIMACAMP AND IMMERATH'S FORGONE CONCLUSION
ENDE GELÄNDE: GETTING READY TO STOP THE MINE