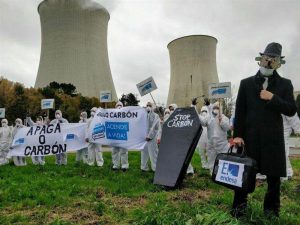 Last December 1st, we took part in the global action against coal at the As Pontes thermal power plant (#ENDESA), organized by the platform Galicia, un Futuro sin Carbon (Galicia, a future without coal), with ECOAR))) and other social and environmental groups are members.
34% of CO2 emissions in Galicia are produced by the Meirama and As Pontes plants. So at 11:30 am we left the Uxío Novoneira square with the objective of making visible the rejection of the burning of coal by staging its burial.
The European regulation, which requires the reform of the As Pontes and Meirama power plants to be able to continue beyond 2020, refers to the importance of the emissions of toxic particles and gases as harmful elements for human health. The problem is that there are no limits on the carbon dioxide (CO2) emissions inherent to the burning of coal and the cause of climate change. Coal could be responsible for 60% of CO2 emissions by 2030, in case the plan to build new power stations and lengthen the life of the current ones continues.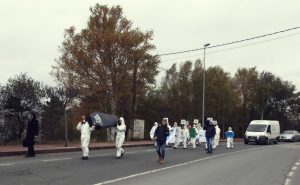 Despite being responsible for more than 65% of CO2 emissions in electricity generation, coal production only covers 14% of electricity demand. Renewable energies are an alternative that guarantees a future for the environment and also for the people who work in power plants and coal mines who, sooner than later will lose their jobs, without being available a closure plan that ensures their livelihood.
Because of all this, today we buried the coal, with an Endesa's management as a witness. After this, the assistants, dressed in work suits, resurfaced with windmills to symbolize a future with renewable energies.
Let's put 2025 as the deadline for the closure of coal-fired power stations and let's make reality, GALICIA, A FUTURE WITHOUT COAL!!!
#TURNOFFCOAL
More information:
https://galizasencarbon.blogspot.com/ (Galician)
Become interested:
A BLUE FINGER TO STOP CLIMATE CHANGE
SUSPENSION OF FELLING IN HAMBACH FOREST
'EUROPE BEYOND COAL': COUNTDOWN FOR THE END OF COAL
STATEMENT: "UN FUTURO SEN CARBÓN" (Galician)