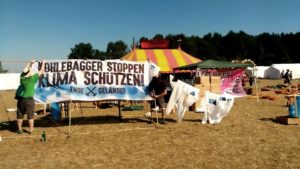 In this new day of Ende Gelände we got up early to attend the morning assembly, in which more than 800 activists from various groups participated with us, and where we were informed of the different key aspects of the actions, the context, the risks and how to get organized to carry them out. At the end of the morning the different working groups which made possible the smooth operation of the Klimacamp  were presented, and in the end, the action groups briefly told us about themselves. Among them we could find: Replace Coal, Beyond The Red Line, Zucker Im Tank, and Ende Gelände.
From lunchtime until the afternoon, as an affinity group, we were analyzing the different actions and which we were going to participate in, taking into account our strengths and possibilities, with the main objective of doing it safely and effectively.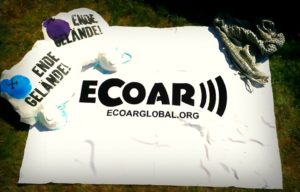 In the afternoon we returned to meet in the plenary, to continue knowing in detail how were the actions that had been developed since today, in addition to some that took place yesterday, such as the green finger that came out doing a bike demonstration titled "Animal Climate Action". Today among the various actions there will be a blockade of a power plant, headed by the collective Replace Coal; Also, the different thematic groups called "fingers" will depart towards the mine, among which we can find one with feminist and queer perspective, a different one focused on agriculture, or an orange one based on mobility, besides the rise of sea level; Each one will be located in the mine in different points with varied actions that include 'batucadas', blockades as well as the recording of a documentary.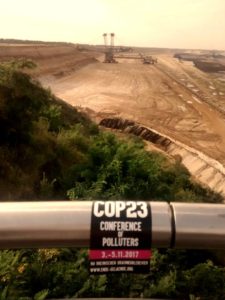 On Saturday, the action entitled "Red Line" is planned so that more than 2000 activists will leave from the Hambach Forest to cut the old A4 highway, arriving to one of the villages destroyed by the mining activity. Finally, the idea was to launch a joint manifesto made among the people present. We keep on going!
More information:
https://www.ende-gelaende.org/en/
http://www.klimacamp-im-rheinland.de/en/
http://www.disobedience.live/en
https://www.climateactionmap.com/
Become interested:
ENDE GELÄNDE: LANDING IN RHINELAND
ENDE GELÄNDE 2017: ENDING THE COAL ON THE RHINE