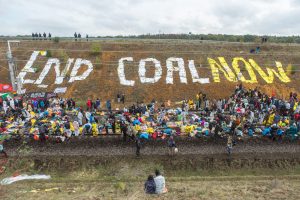 Between the 25th and 29th of October an action against the lignite mines, one of the main responsible for CO2 polluting emissions, took place in Rhineland (Germany). Convened by the platform Ende Gelände, the action brought together thousands of activists for the fourth consecutive year to block mining activity in Rhineland and defend the Hambach Forest.
More than 12,000 years old and with a high biodiversity, this forest  is threatened by the mining activity of the RWE company that uses coal to feed the coal power plants. In recent months, Hambach Forest activists saw the escalation of the struggle to defend the forest. Finally, a judicial ruling provisionally paralyzed the forest from being cut down.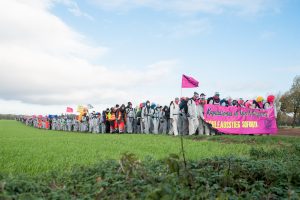 This ruling, which reinforced the mood of the climate struggle, helped Ende Gelände to gather more than 6,500 people in Rhineland on this occasion, with the firm objective of putting a stop on RWE's mining activity. For this, they were divided into several groups. One of them blocked the train tracks in which the lignite from the Hambach mine is transported to the RWE power plants; another group was divided in two and on the one hand blocked the entrance of the mine and on the other, occupied one of the large bulldozers that serve to destroy the environment of the mine.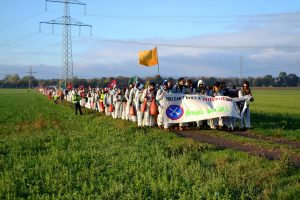 In these actions, which were peaceful on the part of the activists, the security of RWE intervened violently beating the environmentalists. Those in the bulldozer were evicted by the police, using pressurized water and endangering the integrity of the people. Despite the police efforts to prevent these actions, and even in the previous days trying to block the transport of activists towards Hambach, Ende Gelände took place once again and was a big success, paralyzing the mining activity of the Rhineland territory.
Hambach Forest will continue to be defended. The treehouses were rebuilt and new barricades were placed. The fight against fossil fuels continues. The coal will remain underground. For climate justice and system change!
More information:
https://www.ende-gelaende.org/
Become interested:
A BLUE FINGER TO STOP CLIMATE CHANGE
SUSPENSION OF FELLING IN HAMBACH FOREST
BUILDING THE FOUNDATIONS TO FREE OURSELVES FROM COAL