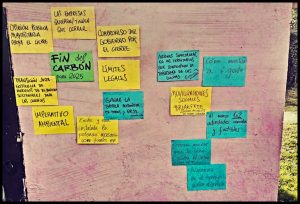 The past 12, 13 and 14 October a meeting framed within the international movement Break Free took place in Riaza (Segovia). This encounter aims to put a stop on the production of energy based on coal. We came to the meeting with the firm task of weaving networks and creating alliances to continue building the movement against fossil fuels.
After the last report of the IPCC, which indicates that, if the CO2 emission is not reduced by half by 2030, and by 2050 by the end of the year, the consequences could be terrible: extinction of species, drought, climatic catastrophes… It is urgent to continue building a strong movement to fight so that these measures for the end of coal and fossil fuels become a reality.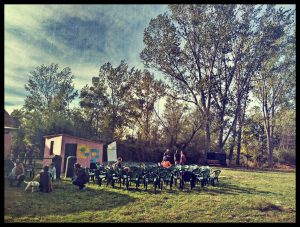 Guests from all over the Spanish state went to collective meetings of various kinds, with the common goal of fighting against climate change. By means of lectures and workshops we organized ourselves to articulate a campaign opened for organizations to join in the defense of the earth, the fight against coal and fossil fuels. We began with the idea of ​​starting decentralized actions throughout the Spanish state that serve as warm up before COP24 in Poland. We also organized ourselves by territories to reach the largest number of people and organizations.
The meeting served as well to exchange different perspectives and information on climate change. We had the presence of fellow activists from Colombia who informed us about the state of the struggle against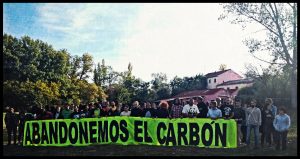 mining in their country. Finally, on October 13, we participated in an action aimed at broadening the visibility of the struggle against the use of fracking and gas. The projects of hydraulic fracturing and gas extraction are destroying the environment and, therefore, the climate. This causes numerous species, including ours, to see their lives damaged. That is why we have to put an end to these extractive activities that contribute to the depletion of resources and climate change. For a future without coal!
More information:
Become interested:
A BLUE FINGER TO STOP CLIMATE CHANGE
SUSPENSION OF FELLING IN HAMBACH FOREST