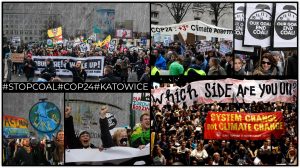 Last December 15, the 24th Conference of the member countries of the United Nations Framework Convention on Climate Change (COP24) concluded. Once again, it ruled out a new opportunity to effectively deal with the progressive increase in global temperature.
The COP24 was characterized by the limited ambition of the states to develop the necessary measures to achieve the reduction of emissions committed in the Paris Agreement. Especially noteworthy is the strong pressure from the coal lobby, as well as the enormous efforts of the United States, Brazil, Russia, Saudi Arabia and Qatar to put all kinds of obstacles to the possible agreement. However, it would also be necessary to include the lack of strength of the European Union when it comes to putting pressure in the opposite direction of these countries.
Poland's COP24 had as its framework the devastating report presented by the IPCC (Intergovernmental Panel on Climate Change) in October. In said report, it was seriously warned that, in the current situation, the world will experience serious problems sooner than expected. The 2º C limit is the boundary marked globally in red as a point of no return that in no case should be crossed, due to the catastrophic and irreversible climatic consequences that would develop. However, emissions continue increasing constantly. This will involve not only reaching those 2º C, but even if if the current course is followed, they will be higher than 3º C.
The plenary, which in recent days no longer had the main political figures and had to be delayed a bit more than a day, only managed to reach a minimum agreement that, even according to the same presidency, does not satisfy anyone. The lack of ambition or the total absence of binding guidelines do nothing but waste another year of the remaining 12 to reverse the situation.
However, Poland's COP24 will be remembered by its confrontation with human rights. On the one hand, the Polish government approved a series of measures of special application during COP24, at the beginning of 2018, that suspended the right of assembly because they prohibited any type of meeting or spontaneous mobilization. On the other hand, during the development of the conference, several countries sought to exclude from the Paris Agreement those references that are found in the text and that assume the importance of respecting human rights when the policies of adaptation and mitigation of climate change are developed.
Parallel to this situation, and despite the clear violation of the rights of assembly and demonstration by the Polish government, various civil society organizations, arrived from all over the planet, staged a civil society demonstration at noon on Friday, December 14, which occupied the stairs of the COP24 demanding climate justice.
More information:
Become interested:
ENDE GELÄNDE 2018: FOURTH YEAR RESISTING FOR CLIMATE JUSTICE
THE FUTURE OF GALICIA WILL BE WITHOUT COAL