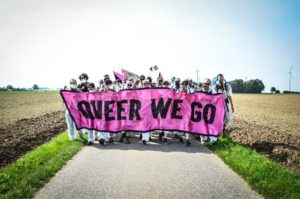 Yesterday we went back to the plenary where 300 activists met to update the information about the actions and groups that were already under way or about to leave, which helped us to have the context and to organize effectively to put a stop to the activity in Garzweiler and the Neurath power plant.
After the end of the assembly we dedicated the time to prepare the necessary materials for the action before because of the possibility of having contact with the police and to safely spend the night in the mine. Once the material was ready, we went out with a couple of fellows from the camp's blue finger to do reconnaissance of the terrain on which today's action will take place, and the access roads.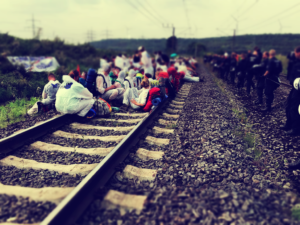 Throughout the day we received information about what happened in the different actions that sought to paralyze the mining activity and the power plant of Neurath, owned by the company RWE, the second largest company in the sector in Germany. The blockade of the access roads of the coal for 5 hours managed to reduce the production of the plant by 37%. In the area that  the Green Finger was blocking, altercations occurred with the police that were settled with minor injuries and detentions. By late evening all fingers except the red had already been evacuated.

We moved, throughout the afternoon, to the action camp in the east of the mine, as the power plant and major coal outlets are located in this area of the mine, which will facilitate the logistics and effective development of the action. At the end of the day we met with the activists who will be part of the Blue Finger, which represents the international block; One representative from each group explained the planning for the night and the details for the beginning of the action today's morning. Today, we are unstoppable!! What do we want? Climate Justice! When do we want it? Now!
More information:
https://www.ende-gelaende.org/en/
http://www.klimacamp-im-rheinland.de/en/
http://www.disobedience.live/en
https://www.climateactionmap.com/
Become interested:
ENDE GELÄNDE: LANDING IN RHINELAND
ENDE GELÄNDE 2017: ENDING THE COAL ON THE RHINE
KLIMACAMP AND IMMERATH'S FORGONE CONCLUSION
ENDE GELÄNDE: GETTING READY TO STOP THE MINE