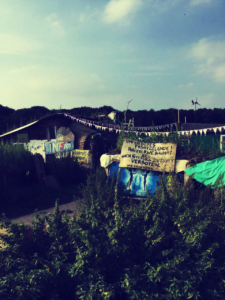 After resting from the previous day and recovering strength, yesterday, after lunch, we decided that we could not go without knowing about the situation of the Hambach Forest, and the struggle of a group of activists, who seek to stop the deforestation of this millenarian forest by the RWE company.
This forest is more than 12,000 years old and is home to more than 140 species, of which up to 5 are protected species. For these reasons, and in order to curb the deforestation carried out by the company RWE, in 2012 a group of activists and neighborhoods in the area, after the first Klimacamp, decided to start doing something permanent to prevent this situation and continued to occupy the forest permanently. From this small base they block the access routes and chain themselves to the trees to avoid their felling.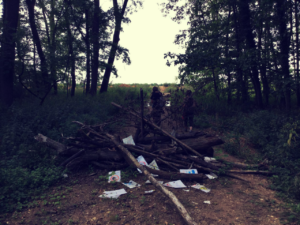 In this day that we shared with the activists of the Hambach Forest, they provided us with their experience, and told us that during the felling season, which occurs from October to February, the levels of repression by the police and the workers in the mine increases to the point of getting the activists, who are stranded in the middle of winter, wet. In spite of the attempts to negotiate with the RWE company a red line that the workers could not cross, the encroachment and felling of the forest continued, and the company itself started to blackmail by contract those who sold the lands so that they would not be in any way against said company. They also told us that they can not be exonerated from the forest because, although it belongs to RWE, German legislation requires that forests be passable regardless of ownership.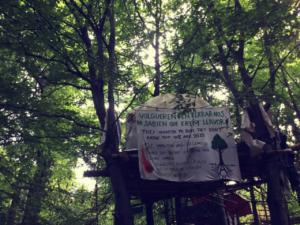 In addition to the occupation, there is an environmental group that is raising awareness campaigns for the conservation of the forest and another group linked to the collective "Camp for Future" goes through the judicial process in a procedure that has been blocked for 2 years, while the forest is reduced by 6 to 10% each year. After saying goodbye to the activists of the Hambach Forest, we set off for the camp, since today it is time to go back home early, ready for the next Keep it in the Ground! ENDE GELÄDE!
More information:
https://www.ende-gelaende.org/en/
http://www.klimacamp-im-rheinland.de/en/
http://www.disobedience.live/en
https://www.climateactionmap.com/
http://hambachforest.blogsport.de/
Become interested:
ENDE GELÄNDE: LANDING IN RHINELAND
ENDE GELÄNDE 2017: ENDING THE COAL ON THE RHINE
KLIMACAMP AND IMMERATH'S FORGONE CONCLUSION
ENDE GELÄNDE: GETTING READY TO STOP THE MINE
PUTTING A STOP TO NEURATH POWER PLANT