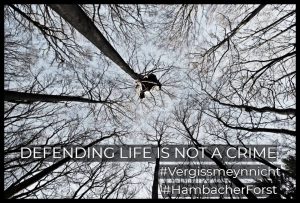 We look back towards a place we already knew before: the Hambach Forest. These days there is a battle in which, on the one hand, the powerful energy company RWE has a particular interest in the exploitation of lignite in the area, and on the other, neighborhoods and ecologists defend the right of the forest to exist and, therefore, all its biodiversity.
RWE argues it has the legal permission for the logging, and that its activity is supported by the regional government made up of conservatives (CDU) and liberals (FDP). The consortium wants to extract the coal under the forest. Both the regional government of North Rhine-Westphalia (NRW) and all parties, except the Greens and Die Linke, support the powerful coal extraction company. The environmentalist party, residents and environmentalists are calling for a moratorium on logging until December, when the results of a study commissioned by the federal government of Germany will be released. The study designs a plan to progressively abandon the use of coal, which is valid for all of Germany.
The company RWE does not want to give up its interests in Hambach. For that it used its alliance with the regional government, which is currently leading to an eviction and collapse of the treehouses that Hambach activists built to resist, claiming alleged security measures. This police operation, which has 3,500 officers, is the largest in the history of North Rhine-Westphalia.
This movement did not go unanswered and numerous organizations called for demonstrations throughout the country. Also, more than 5,000 people traveled to the Hambach Forest to block the logging. Several dozen activists were arrested and almost a third of the treehouses were demolished. Unfortunately, within the last hours one of the journalists who covered the news died when falling from one of the suspension bridges of the trees.
Germany signed the Paris Agreement and contracted the duty to mitigate its CO2 emissions until it reaches its neutrality in 2050, at a key moment to stop climate change. Allowing such a police deployment, which only serves to ensure the interests of one of the world's largest polluting companies such as RWE, becomes a step backwards by losing a forest of more than 12,000 years of age in the process, which contains a large diversity.
More information:
PRESS RELEASE DEATH OF JOURNALISTS
Become interested:
PUTTING A STOP TO NEURATH POWER PLANT
A BLUE FINGER TO STOP CLIMATE CHANGE