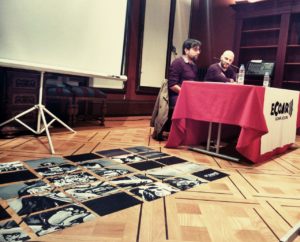 On November 23rd, at Casa Museo Casares Quiroga in A Coruña, Marcos Pérez's lecture, "Every journalist has his/her own truth. War of stories in a fragmented world". It was the third step towards discovering the implications of communication for citizens and how networks convert the consumption of information into a problem, since there is no culture of responsible consumption of information.
In this step of the way that we continue traveling within the framework of the Communication, Power and Counterpower Conferences, Marcos Pérez, journalist of Praza Pública, contributed through his experience with an analysis of the current situation of the media, starting with traditional press going paper free, and the consequences of this process, problems such as the hyper-dependence of the current means of social networks and how they contribute to preventing a plural vision of reality. In the search for alternatives section, Marcos proposed not to get caught up in already given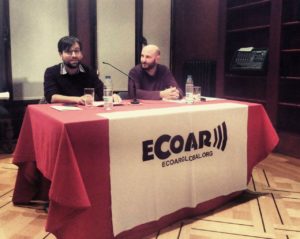 frameworks, and create new ones that allow us to build another discourse. Finally, he highlighted the role of networks, their advantages and disadvantages, and how they can serve to advance towards changes in the political culture and the construction of alternative communication.
We are already approaching the equator of the Conferences. Tomorrow we will meet again in the city of A Coruña to make a stop on this path focusing on the world of advertising with the lecture "Advertising as an instrument of power" that Antonio Caro will offer us at the Alexandre Boveda Cultural Association. See you there!
More Information:
https://comunicacioncontrapoder.ecoarglobal.org/en/
Become interested:
WARMING UP IN PONTEVEDRA: WOMEN IN THE MEDIA
THE FIRST STEP: PROBLEMS AND OPPORTUNITIES OF DIGITAL ACTIVISM
SECOND STEP: FREEDOM OF PRESS FROM THE TRANSITION UNTIL TODAY