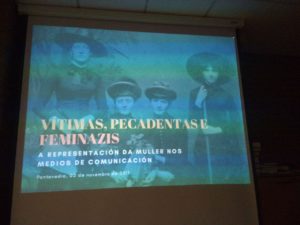 Last Thursday November 2 the conference entitled: "Victims, Sinners and Feminazis" took place in the Faculty of Social Sciences and Communication in the city of Pontevedra. Lorena Arévalo gave us an analysis of how women are represented through the media and the different problems that arise from it.
In this event Lorena Arévalo, PhD in Communication Sciences and Master in International Cooperation, presented us through her professional experience how there are several archetypes of women, prefabricated by patriarchy, in mass communication. She also presented how women that are pushed to achieve these "ideal" frameworks, are systematically attacked and harassed by the media. From the bad treatment of news about gender violence, to criminalizing the victim, or resorting to the insult and mockery of feminist women, passing judgments of aesthetic value, which would never be made of a man in the media. Finally, there was a small debate where we reflected on possible solutions, or starting points, in order to achieve changes in the current way of understanding communication and how it affects women.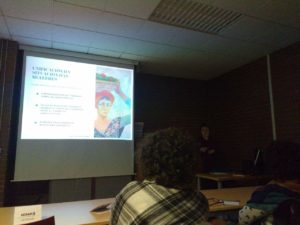 This talk serves as a starting point for the next Conferences on Communication, Power and Counterpower organized by ECOAR))). It was the warm-up, with a view to the series of lectures that will begin on November 17 and end on December 8, in which different speakers with a differentiated approach, will offer through their experience an analysis about the construction ot he current hegemonic speech, how power relations are woven through communication, as well as how society is articulated to vertebrate alternatives. Without further ado we invite you to continue dabating with us from next Friday 17. See you in the next events!
More Information:
https://comunicacioncontrapoder.ecoarglobal.org/en/