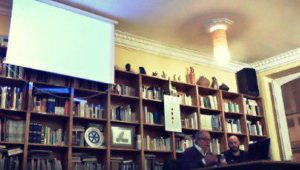 On November 24 we met once again in A Coruña to follow this path that is serving to unravel communication and its relationship with political power and transnationals. We took a fourth step together with Antonio Caro within the framework of the Communication, Power and Counterpower Conferences, which helped us to get closer to the implications of advertising in the field of communication and how it affects our lives and societies.
In this lecture entitled "Advertising as an instrument of power", Antonio put on the table the construction of advertising in the contemporary world. The first problem he pointed out is that advertising is currently not valued, so research on it is practically nil. This causes that advertising is used to inoculate the capitalist ideology in the population; The formula used is through the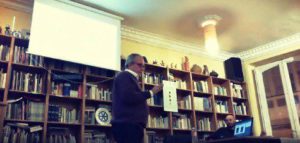 promotion of consumerism as the ultimate end of existence. He also commented that currently mass media are totally dependent on the income that advertising gives them, which contributes to turning the media into servers of the big transnationals. Finally, he analyzed how semiotics was instrumentalized through "marketing".
We are already in the middle of the Communication, Power and Counterpower Conferences. With this lecture we delve once more into a specific part of communication such as advertising. We will continue analyzing communication on Saturday, November 25 in Vigo with Magda Bandera, director of the magazine La Marea and her lecture entitled "Myths about the alleged digital revolution in the media." Do not miss it!
More Information:
https://comunicacioncontrapoder.ecoarglobal.org/en/
Become interested:
WARMING UP IN PONTEVEDRA: WOMEN IN THE MEDIA
THE FIRST STEP: PROBLEMS AND OPPORTUNITIES OF DIGITAL ACTIVISM
SECOND STEP: FREEDOM OF PRESS FROM THE TRANSITION UNTIL TODAY
THIRD STEP: FRAGMENTED REALITIES, INFORMATION HAZARDS