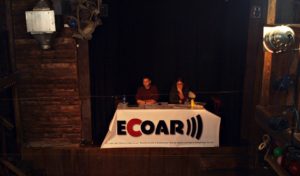 Last Saturday, November 25, we continued to follow this path that is helping us to analyze communication in today's world, with a fifth step of the Communication, Power and Counterpower Conferences. We gave this step with Magda Bandera, director of La Marea magazine, who gave us her vision on what digital media entails today.
This lecture entitled "Myths about the supposed digital revolution in the media", began with an introduction about the turning points that occurred in the 21st century from the Genoa summit of 2001 to 15-M Movement, analyzing how they were related, communication and activism, setting the example of the Indymedia case and giving a vision about the dangers and advantages of this type of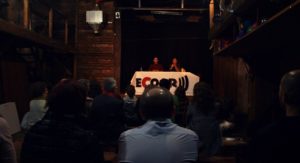 media. In this sense, she explained the need for professional journalism, that pleads for contrasted, structured and quality information. She also pointed out the current habits of access to information and how this conditions when building media, such as the phenomenon of clickbait articles. She also underscored the financing and the hegemonic presence of certain foundations at the time of seeing how some alternative means are financed. Finally, she analyzed how the lack of women in journalism and positions of responsibility in the media influences when it comes to constructing information.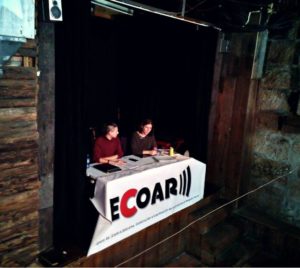 When closing the lecture Magda left the central question, "What kind of media do we want?". We will surely continue reflecting on it. With this conference we are already approaching the end of the Communication, Power and Counterpower Conferences that after passing through Santiago de Compostela, A Coruña and Vigo. They will now head towards Montreal with Dmitri Vitaliev at the University Mcgill  on the 8 of december, with a a lecture entitled "Manipulating the net, stories of censorship and defensive security" and on the same day in Montpellier with Philippe Corcuff at the Espace Martin-Luther-King and your lecture "Criticism of media and emancipation in today's world"  See you!
More Information:
https://comunicacioncontrapoder.ecoarglobal.org/en/
Become interested:
WARMING UP IN PONTEVEDRA: WOMEN IN THE MEDIA
THE FIRST STEP: PROBLEMS AND OPPORTUNITIES OF DIGITAL ACTIVISM
SECOND STEP: FREEDOM OF PRESS FROM THE TRANSITION UNTIL TODAY
THIRD STEP: FRAGMENTED REALITIES, INFORMATION HAZARDS
FOURTH STEP: ADVERTISING AS A POWER TOOL