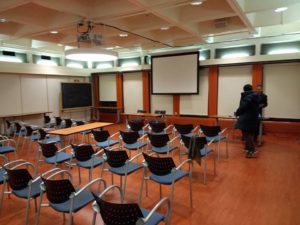 Last Friday, December 8, we took the last step of these Communication, Power and Counterpower Conferences. This led us to Mcgill University in Montreal where, together with Dmitri Vitaliev, project manager eQualit.ie, we set out to discover how information can be manipulated through the net.
This lecture, entitled "Manipulating the net. Stories of censorship and resistance", began with a short presentation of the eQualit.ie project that aims to provide security tools, communication and data analysis to groups, activists and journalists. Starting from the idea that the internet is not an innocent terrain, he explained how, in addition the filtering of news to position themselves on the internet, different groups organize themselves to attack the websites of movements such as, for insance, Black Lives Matter. As the analytics of the Deflect tool show, this has a determining influence when it comes to the circulation of information in the net. He continued to analyze how easy it is for false or incorrect information to quickly move through the net and modify the conformation of reality; In turn, he explained how we can avoid this type of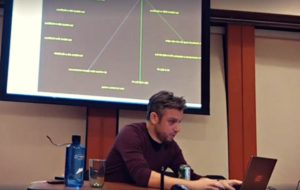 phenomena such as "fake news". While analyzing all these situations, he explained the operation of tools such as Deflect, which serves to protect servers from DDOS attacks, or Corroborator, whose function is to analyze the accuracy of the data that is dumped on the net. Finally, he pointed out how large internet companies, such as facebook or google, have excessive control over the way in which information circulates.
After a short debate, we closed the Communication, Power and Counterpower Conferences, in which we reviewed the communication from different areas. A path that took us from Santiago de Compostela to Montreal, passing through Vigo, A Coruña and Montpellier. In the coming days we will be giving closure to this series of chronicles with a final text in which we will summarize everything we learned thanks to these conferences and the people who accompanied us.
More Information:
https://comunicacioncontrapoder.ecoarglobal.org/en/
Become interested:
WARMING UP IN PONTEVEDRA: WOMEN IN THE MEDIA
THE FIRST STEP: PROBLEMS AND OPPORTUNITIES OF DIGITAL ACTIVISM
SECOND STEP: FREEDOM OF PRESS FROM THE TRANSITION UNTIL TODAY
THIRD STEP: FRAGMENTED REALITIES, INFORMATION HAZARDS
FOURTH STEP: ADVERTISING AS A POWER TOOL
FIFTH STEP: THE EMERGENCY SITUATION IN ACCESS TO INFORMATION