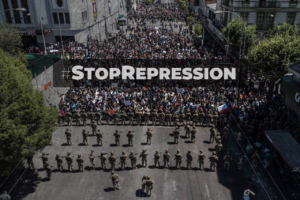 Repression has always been one of the ways in which governments, or any group that holds power, have acted against those who challenge existing power relations. It has been defined as the employment or threat of coercion by the powerful on those who oppose it in order to weaken resistance to their will1. In short, repression is any institutional activity that tends to inhibit collective behaviors.
Repression is not the only mechanism for collective control. Talcott Parsons, in "The Nature and Significance of Economics"2 defined others as incentive (offering disgruntled people advantages to induce them to change their attitude), persuasion (using influence and "good reasons" without positive or negative sanctions ) or commitment (calls to morality and the conscience of citizens). These mechanisms are preferred by the authorities in times of low social conflict.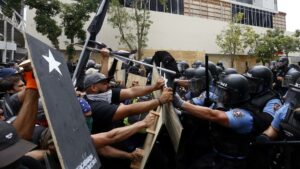 However, if the above fail, the powers resort to the fourth mechanism: coercion, or pressure on an individual or a group of people with the aim of conditioning their behavior. According to Michael Mann3, this can be splir, from a lowest to a highest degree, into: oppression (omission of the social and economic rights of citizens), repression (social control through sanctions, such as the McCarthy era in the USA), State terrorism (systematic use of violence to create chronic fear, as during the Pinochet dictatorship) and genocide (elimination of an ethnic, cultural, religious or ideological group).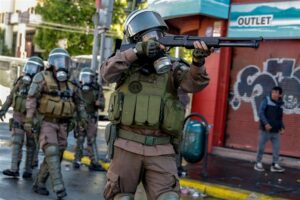 When populations are faced with a situation of repression, we can use the right of rebellion, or the use of force or civil disobedience in order to overthrow an illegitimate government. This right is implicitly reflected in the preamble to Human Rights of 19484. It is a legitimate and recognized right of the populations before an unjust power5.
In the face of injustice, we must strengthen ourselves individually and collectively, adopt security measures and be discreet both in networks and in real life, know who we are facing and document other struggles to analyze their mistakes and successes6. Victories such as the recent constitutional process of the Chilean people7 demonstrate that struggle is possible and necessary, and that united populations manage to change history.
1 STOHL, Michael y LOPEZ, George A., "Introduction" en STOHL, Michael y LOPEZ, George A., The State as Terrorist. Westport, Greenwood, 1984, pág. 7.
2 PARSONS, Talcott, "Some Reflections on the Place of Force in Social Process" en "Internal War: Problems and Approaches". Londres, Collier-MacMillan y Nueva York, The Free Press, 1964, pág. 34.
3 MANN, Michael, Las fuentes del poder social, vol. II, pág. 527.
4 "Considerando esencial que los derechos humanos sean protegidos por un régimen de Derecho, a fin de que el hombre no se vea compelido al supremo recurso de la rebelión contra la tiranía y la opresión" (Preámbulo de la Declaración Universal de los Derechos Humanos)
5 https://papers.ssrn.com/sol3/papers.cfm?abstract_id=2329401
6 https://kaosenlared.net/estrategias-para-afrontar-la-represion/
7 https://www.plebiscitonacional2020.cl/
More Information:
Become Interest:
THE CHILEAN PEOPLE FINALLY BURY PINOCHET