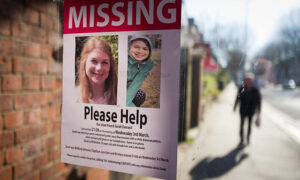 On March 3rd Sarah Everad disappeared. Days later a corpse was found whose remains corresponded to the 33-year-old woman and a police officer was charged with kidnapping and murder in London after the body of the missing girl was identified. The case has caused quite a stir in the UK1.
On March 13th hundreds of women walked together on the streets in South London to demand better security2. They marched with candles and flowers but the metropolitan police received them with blows after trying to prohibit the march with the excuse of the restrictions of the pandemic, a fact that did not prevent the police, judge and party violence in the case at hand3.
The issue reached such a big dimension that Princess Catalina herself appeared at the place to leave a bouquet. This fact did not prevent Scotland Yard agents from deciding to intervene as if it were a violent demonstration or a terrorist incident, giving rise to chilling images in which they are seen dragging women on the ground and putting them the handcuffs while the sirens of the vehicles sounded and a helicopter flew over the area. This abuse of force has sparked calls for the resignation of the head of Scotland Yard who justified the actions of the police under her command4.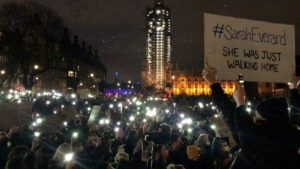 By March 15th citizens walked together on the streets again in London to protest against police violence and demand that they stop a bill that will give more power to the police to repress civil protests and that will further deepen punitivism5.
On March 16th as a response to these protests the UK Government announced a battery of measures aimed at providing the country's women and girls with "more peace of mind" after the murder of Sarah Everard. These include an additional 25 million pounds (just over 29 million euros) to be invested in better street lighting and a CCTV surveillance system as well as a pilot plan to deploy plainclothes agents in pubs and nightclubs of the country6. Which again affects a punitive and hypervigilance model that not only does not attack the root of the problem but also violates people's freedom and does not propose measures that help destroy the culture of rape.
1 https://www.lavanguardia.com/sucesos/20210313/6374639/sarah-everard-claves-asesinato-reino-unido.html
2 https://www.france24.com/es/europa/20210316-londres-protestas-sarah-everard-policia
3 https://www.lavanguardia.com/internacional/20210315/6375259/criticas-scotland-yard-fuerza-mujeres-sarah-everard.html
4 https://www.lavanguardia.com/internacional/20210315/6375259/criticas-scotland-yard-fuerza-mujeres-sarah-everard.html
5 https://www.france24.com/es/europa/20210316-londres-protestas-sarah-everard-policia
6 https://www.elconfidencial.com/mundo/europa/2021-03-16/uk-lanza-medidas-para-proteger-a-las-mujeres-tras-el-caso-de-sarah-everard_2994583/
Become Interest: