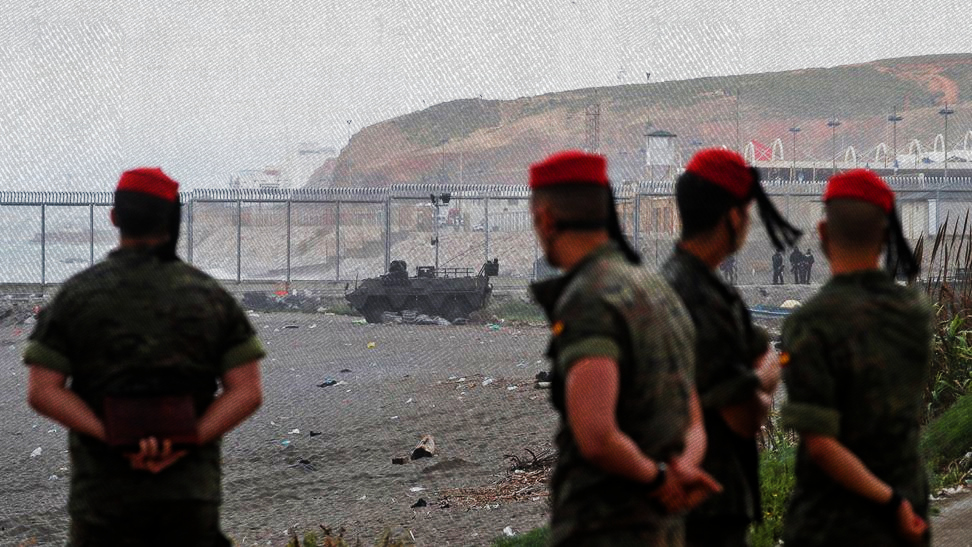 Last April Brahim Gali, president of the Sahrawi Arab Democratic Republic, was hospitalized in Spain1. This caused a political crisis between Morocco and Spain since the Moroccan regime felt that its strategic interests were under attack by offering medical assistance to the leader of the Polisario Front with whom they have resumed hostilities last year.
Despite Morocco's efforts to dissociate Spain from the EU, the truth is that the European Union has supported the Spanish state in the crisis.Germany is rejecting Trump's decision to recognize Moroccan arrogance over the Sahara and European countries are concerned about the blackmail through migration that Morocco has practiced2.
At the end of last May the culmination of this blackmail occurred when during 48 hours Morocco allowed the passage of 8000 migrants, including roundabout 2000 minors3, turning desperate human beings into a thrown weapon in the diplomatic fight against Spain. This highlights a well-known reality on the southern border: Morocco is a police officer, the police officer of Europe.
After Grande-Marlaska approved changing the "border containment" model by changing the fences of Ceuta and Melilla for less harmful elements, Morocco took identical measures on its side and border police took on the task of avoiding with more force the passage of migrants to autonomous cities4.
Currently the crisis is not over. Spain should assume its responsibilities with the Saharawi people, leave the lukewarm, face the leadership to carry a referendum on the independence of Western Sahara so that peace can take place. On the other hand, we must pressure the EU to end an immigration policythat can turn human beings into crude immigration blackmail.
1 https://www.eldiario.es/internacional/enigmatico-viaje-hospital-espanol-brahim-ghali-polemico-lider-frente-polisario_1_7853590.html
2 https://www.elconfidencial.com/mundo/2021-05-23/crisis-ceuta-marruecos-intenta-aislar-espana-europa_3095127/
3 https://www.elconfidencial.com/espana/2021-05-23/crisis-ceuta-valla-recien-levantada-marlaska_3093432/
4 https://www.elconfidencial.com/espana/2021-05-23/crisis-ceuta-valla-recien-levantada-marlaska_3093432/
Become Interested: