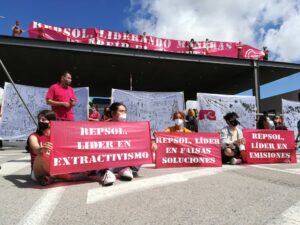 On the 21st day, called by Rebelión por el Clima, we met with a hundred activists at the Repsol research center in Móstoles to participate in a blockade action against the transnational, leader in GHG emissions in the Spanish state, to denounce the responsibility of the company in the climate crisis and request the cessation of its fossil activities as soon as possible, and no later than 2040.
We chose this research center because Repsol likes to wash its face via greenwashing, while continuing to research technologies related to fossil fuels in this center. Not forgetting that it continues its extractivist practices in Africa and America.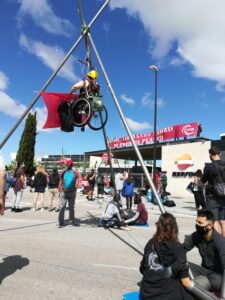 We began the action at 11:00 am under the slogan "Repsol, leading ways to fry the planet", we accessed the roof of the sentry box at the entrance of the headquarters using metal tubes and three five-meter tripods placed in front of the entry. At the same time, a human cordon of dozens of people was deployed throughout the area.
After the police evicted the people who were not blocked and the press, they needed the intervention of the fire department to lower the people hanging from the tripods. The action ended with 30 activists arrested and taken to the police station.
According to data from the Sustainability Observatory, Repsol emitted a total of 11,290,294 tons of CO2 equivalent in 2020, which represents 12.4% of the total emissions of the emissions market1.
ECOAR))) along with the rest of the climate organizations and activists, demand a plan from Repsol to close all its fossil activities in order to align with a climate scenario of 1.5ºC, paralyzing all lines of research aimed at extending the life of fossil fuels or those that pose traps for the climate or the environment, immediate closure of all projects where there are suspicions of human rights violations and the cessation of its greenwashing campaign and the withdrawal of public funds. There is no planet B, not one degree, not one species less !!
1 https://www.observatoriosostenibilidad.com/2021/04/19/descarbonizacion-2021-en-europa-espana-y-comunidades-autonomas/
Become Interest: